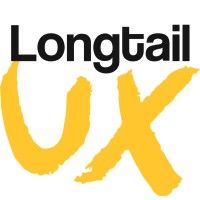 Apply to Longtail UX
We're a company on a mission to change the way enterprises acquire their customers. We're looking for a copywriter who wants to help us create a new category in e-commerce.


Embracing our company values is a key requirement of the role:


Driven: We're looking for someone who shows a can-do attitude in everything they take on. When you're using your initiative, mistakes will be part of the gig - just so long as you're willing to take direction, venture outside your comfort zone, and develop your skill set.
Transparent: can work independently with excellence, but also proactively invites feedback so you can learn from your efforts
Game Changers: always looking for new ways to lend support and to boost team efficiencies
Collaborative: Loves to work in a close, fast-paced and supportive team
We Care: at Longtail UX, we place a strong focus on collective success and in this role, you have a great opportunity to contribute to an awesome, genuinely supportive team culture
In this fun, fast paced role you'll:


Write compelling content to accelerate the buyer journey, fuel lead generation, and enhance all client interactions to enhance lifetime value
Create and manage website content, presentations, infographics, whitepapers, case studies, webinars, blog & social media posts, and prospect outreach communications
Help create and maintain a cohesive brand identity and tone-of-voice across all communications
Excellent written and verbal communications skills with the capacity to build a profile or storyline to accurately communicate the work we do, the challenges we address, and the companies we assist to a range of audiences
Report on content effectiveness metrics; continually monitor, analyse, and tune messaging to maximize excitement for our brand, technology, and products
Interview existing clients to document their customer experience using videography, product imagery and client feedback.
Create and maintain a content marketing calendar, projects, and strategy, working closely with the rest of our marketing team
Quickly ramp-up on our unique product offering and create convincing collateral to help us be "category creators"
Work closely and super collaboratively with peers in digital performance, design, product, and sales

You're perfect for this role if you have:


5+ years of content experience, particularly in writing and preferably in an enterprise (B2B) technology or software company
A bachelor's degree in journalism, marketing, communications, literature, or other valuable experience and training in persuasive writing and content creation
Have an understanding or interest in the tech industry – SEO, SEM, Google Shopping, and E-Commerce.
A passion for translating complex/technical concepts into clear, concise content for a range of audiences
Knowledge of content creation tools, such as social media platforms, G-Suite, web CMS, marketing automation, web analytics, Adobe Creative suite
A willingness to receive and provide feedback to improve copy, content strategies and asset development
Excellent planning skills and the ability to prioritise in a dynamic and agile scale-up environment
An interest and commitment to stay on top of emerging content marketing trends
One of our five company values is to be a "Game Changer"; you should love experimentation with messaging, mediums, channels
Be excited to challenge the status quo; and constantly enhance your skills by studying best practices
Be able to work autonomously but also invite feedback; two of our company values are "Collaboration" and "Transparency"
Must love collaborative brainstorming and feedback to improve output
A strong portfolio demonstrating a variety of work in similar roles

Benefits


With our patented ecommerce technologies, we help our clients deliver a superior customer experience to dramatically improve their online revenue generation. Smart companies are using LUX to completely reimagine what's possible in terms of acquiring new customers online at a compelling and measurable ROI.


We work with clients around the world, including some of Australia's best-known brands across retail, peer-to-peer marketplaces, finance and travel, including Myer, Graysonline, Catch Group, Dan Murphy's, Adore Beauty and many others. Our international business is also growing quickly, with established clients across the US, Europe, Japan and Latin America, including international brands like Kewpie, Ssense and Adevinta Group.


LUX was co-founded by an Ex-Googler and is backed by well-known institutional investors, including Investec and W23, the investment-arm of Woolworth's Group. We have a hard-working and super fun team that strongly values diversity while generating exceptional value for clients.


We value our people, and work hard to make sure that every day in the office is a good one. We encourage idea sharing, support personal development, celebrate achievements and appreciate there is life outside of work - and we are growing quickly, so there is ample opportunity for personal career growth too.


If this sounds like the ideal next step in your career, send us your CV and Cover Letter, explaining why this job sounds like a great fit for you!


For more information, please contact Angela Morrow, People Operations Manager:
[email protected]
Please note, we are currently receiving a high volume of applicants for the roles we advertise so may only contact you if you are successful at the initial stage of our recruitment process.


This is a full time permanent position, if you're a freelancer looking for part-time or project work then this role is not a good fit for you.


** To all recruitment agencies: Longtail UX does not accept agency resumes. Please do not forward resumes to our contact alias, Longtail UX employees or any other company location. Longtail UX is not responsible for any fees related to unsolicited resumes.
Apply to Longtail UX
About Longtail UX
Office address
28 Montague Street, Balmain, NSW, 2041
Company size
11-50 people
Founded in
2013