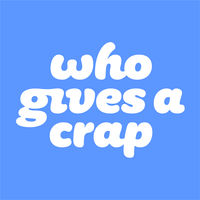 Apply to Who Gives a Crap
Want to challenge yourself at a high-growth startup AND make a difference in the world?
A bit about us:


Hi, we're Who Gives a Crap! We make eco-friendly toilet paper (as well as tissues and paper towels) and donate 50% of our profits to help build toilets for the 2 billion people in need.
We absolutely love doing good, but we're also exceptionally good at it. To date, we've donated over AUD$8.3 million (roughly USD$5.9 million) to fund sanitation projects around the globe. We've grown quickly – selling directly to customers across three continents and establishing a strong B2B business in Australia that's recently expanded to the UK and the US. 


Our team is made up of over 100 amazing humans working out of Melbourne, Los Angeles, China, and Manila. We're working hard to reach our ambitious goals and diversify our product range to ensure we can have the greatest impact possible – both for the planet and its people. With your help, we're hoping to increase our annual donation 10-fold in the next couple of years and continue to make the most beautiful, eco-friendly goods around.
A bit about the role:


If the idea of putting to work your deep expertise in employee relations in a fast-growing, good-for-the-world global start up business (oh, and did we mention we sell really cool toilet paper, too?) makes you perk up in your seat and read this even closer, then we want to hear from you! As our first-ever Employee Relations Expert, you will help keep us in tip-top compliance shape, never missing a beat when it comes to the nuances of employment in each of our global hub locations, and will ensure we are prepared to build out new company-wide policies, establish hub locations in new regions, and continue growing our team of employees, consultants and freelancers with schmick and smooth hiring processes in place. 


Reporting into our very own in-house legal counsel, our Legal Beagle, you will also partner closely with our People & Culture and Number Scrunchers teams and will support stakeholders across the business in any matters involving employment legalities, HR standards or company benefits policies. You're a lawyer by trade, and while you bring a deep wealth of expertise from your time working in-house or specializing in employment law, you also just love working with and supporting other humans. You're wearing your "human-y" cap at all times, and will spend much of your time in this role educating, inspiring and empowering our teams to understand their parameters and build confidence in their own decision making. 


We're really proud to encourage a flexible working environment and we'd love to consider applicants who are interested in both part-time and full-time work. This is a brand new role which gives us the opportunity to consider the best balance for the role and the successful candidate. If you get all the way to the bottom of this job ad are are left thinking "oh wow, if only I could do this job on a half-days-only basis" or "hmm I wonder if they'd be up for me doing this 4 days a week" then we still want to hear from you. We can't guarantee anything, but we're always up for a challenge!
Looking into our crystal ball, here are some things you'll be involved in over your first 6 months: 


You helped us review all of our employment contracts across our hubs, identifying and rectifying any gaps, and then working with P&C to put a Who Gives A Crap tone on them without blurring lines!
Worked closely with our Talent leads within P&C to set up a framework to determine when to hire for a contractor or permanent employee, helping us ensure that we are documenting the correct classifications, issuing relevant contracts, and ensuring all insurance and benefits are properly applied as applicable. 
You've audited our current employment and benefits policies, tied up all loose ends of policies still in draft stage, and then helped us build out a database for our policies that feels super inviting to access and navigate for any new hire or current team member in need of a refresher.
You sought input from one of our external legal consultants in an effort to ensure we have all the necessary legal requirements ticked off before employing our first full time team member in a new hub location (sooo exciting!). 
After tightening up our performance management process and associated documentation, you led a training workshop for all our people leaders to equip them with the updated tools and best practices.
Coached our People & Culture team and Exec members through your recent work building out our employment capabilities in new prospective hub locations from a legal perspective. 
You've tapped into your extensive legal expertise that goes beyond employee relations to take the reins on a number of general legal projects while our in-house Legal Beagle made us all proud speaking at a week-long legal forum.   
You dug through your wardrobe for the best costume you could find and dressed up for the company-wide Zoom party celebrating the launch of a new product line. You mayyyy have won best costume, too, but who's counting right? 😉 
Let's talk about you


You're a double-edged sword, ideally bringing an expertise in both law and human resources.

If all our wishes were granted, you'd come with a law degree (or equivalent relevant field experience), legal experience working in-house, and a deep understanding of employment relations and human resources. To us, it matters less which curvy path you took to get here, but if you can raise a hand that you wear both of these hats with confidence, then we want to hear from you! 

You speak "legal-ese" but are an equally good translator, too. 

You've got the knack to turn legal jargon into layman's terms and you've got a range of tricks up your sleeve to create digestible information for a broad range of stakeholders. Getting buy-in on legal implications can be tough and you've mastered the art of sharing risks in a way that's more helpful than alarming. 

You're solutions-driven, and strategically-minded. 

You're always out to help your team get to the best (and most compliant, of course) outcome, and you have a knack for sifting through a myriad of inputs in order to identify and articulate one proposed solution forward. You can easily geek out for hours with a teammate to weed through the ins and outs of a new employment law passed in one of our hub geos, but are equally excited about joining our People & Culture team members in a big-picture strategic brainstorm session around how to build a new employee wellness policy with consistency across our hubs as a top priority to address.  

You can think local and global.

With a truly global team, it's important for us to nail the balance of local and global thinking when it comes to all elements of the employee experience. We don't expect you to have had  experience in each of our markets, but when thinking about policies or hiring practices, you'll bring an ability to interpret the "must knows" and apply your natural culture awareness to get you most of the way there. 

You've got a network of experts up your sleeve.

Whilst you'll be the employee relations legal expert of our business, we don't expect you to always go at it alone! You know how to get the most out of engaging external experts to allow you to focus on your best work, and up your own smarts in some of the location specific nuances that come with ever-changing employment and hiring laws. 

You know your sh.. stuff!

You may not have experience across all regions or disciplines but you're comfortable applying your expertise and legal lingo to navigate the unknown. You might not always know the answer but you're able to articulate the question and know how to get it answered. When it comes to employee relations, though, your legal knowledge goes deep and you're constantly on the hunt for new law amendments or employment standards in order to remain most up to date on behalf of your team!

You <3 technology as much as humans.


As a distributed team, we live on Slack, Zoom and the Google Suite and we know the value of a damn good virtual backdrop or gif. Our legal and HRIS platforms like LawVu, HelloSign, Justworks, Xero, and BambooHR are pretty fancy too. We rely on these tools to keep our teams' information documented, health benefits accounted for, and payroll running smoothly, and we want you to feel confident and comfortable embracing this way of working. 

You give a crap

Yep. We're all here because we genuinely want to make the world a better place with our work, and we want you to want that too! Awwww.
Why you should work with us


Every minute you spend working with us, you're making a difference. The more we grow, the bigger an impact we'll have. Sell your soul no longer! We think that's a pretty great perk, but we don't stop there…


If you have a great idea, we'll do everything we can to make it happen. This is the kind of role that will be hard to find anywhere else: you'll work with an incredible bunch of passionate people to grow a fast-paced startup at a crucial point in its trajectory.

The job is also amazingly flexible, something we're working hard to hold onto even as we grow super quickly. We started the business remotely, and now have hubs in 4 cities around the world, including our main office in Melbourne and a satellite office in Los Angeles (during the pandemic, we have transitioned to working completely remotely company-wide). Oh, and we can't forget, you will get free toilet paper. A lot of it. And nothing beats that.
Lastly, you get to say the word 'crap' more than in any other job. Guaranteed.
Salary

This depends on your experience but just because we're a social enterprise doesn't mean you'll get paid peanuts. Think chocolate covered macadamia nuts with some extra perks thrown in. In other words, we pay competitively and are determined to make this the best job you'll ever have – you won't ever want to leave! We'll be hiring this role as a full-time, ongoing role. 

On top of 4 weeks of annual leave, we also provide flexibility to take extra unpaid leave or travel while working, we provide a health insurance stipend, generous parental leave, training and development budget and a whole lot of other stuff. And did we mention the free toilet paper?


We're also not the only ones who think that working at Who Gives A Crap is pretty unbeatable! We feel so honoured to have been recognized for the second year in a row on BuiltIn LA's
"100 Best Places to Work"
list, and most recently also on the
"Best Midsized Places to Work"
list. This selection was based on the value of our culture programs, company perks, benefits, and salary packages, and we're listed alongside other notable names in the startup, B.corp, tech, and e-comm space. We don't toot our horns often, so this is an extra bashful share. Check out some of our other US-based jobs featured on BuiltIn LA, and spread the word to other talented folks in your network who might be the perfect fit!
Apply to Who Gives a Crap
More jobs at Who Gives a Crap
About Who Gives a Crap
Office address
585 Little Collins Street, Melbourne CBD, VIC, 3000
Company size
51-200 people
Founded in
2012