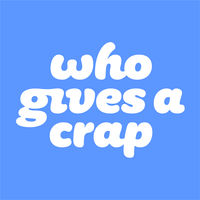 Apply to Who Gives a Crap
Want to challenge yourself at a high-growth startup AND make a difference in the world?

A bit about us:


Hi, we're Who Gives A Crap! We make eco-friendly toilet paper (as well as tissues and paper towels) and donate 50% of our profits to help build toilets for the 2 billion people in need.
We love doing good, and we happen to be exceptionally good at it too! To date, we've donated over AUD$8.3 million (roughly USD$5.9 million) to fund sanitation projects around the globe. We've grown quickly – selling directly to customers across three continents and have established a strong B2B business in Australia that's expanding to the UK and US. 
Our team is made up of over 100 amazing humans working out of Melbourne, Los Angeles, China, and Manila. We're working hard to reach our ambitious goals and diversify our product range to ensure we can have the greatest impact possible – both for the planet and its people. With your help, we're hoping to increase our annual donation 10-fold in the next couple of years and continue to make the most beautiful, eco-friendly goods around.

A bit about the role:

Our Creative, Growth Marketing and Digital Product teams work extremely closely to create the most delightful, on-brand and high performing work possible. We're seeking a designer and an art director (all rolled up in one human!) who understands and loves the intersection of creative, brand, growth marketing, and insight-driven work. 


Reporting to our Creative Director, as our Growth & Brand Design Lead you'll directly manage our super talented Digital Graphic Designer and work within a kick-ass Creative Team who aren't afraid to put a fart button on an email. You'll be leading the collaboration between the Creative Team, Brand specialists and Growth Marketing team, and making sure that the creative output is on-brand, injecting delight wherever possible, and that our customer and performance is at the heart of everything we do.


Using your ability to translate Growth metrics into Creative concepts, you'll play the integral role of bringing the two teams together to work towards common goals. We test new channels often, so you could be doing anything from elevating the design for our paid social ads to brainstorming visuals for the most eye-catching billboard ad, to thinking through brand concepts for a new product launch. The work is varied, high paced and we're looking for someone who loves figuring stuff out in creative ways, thinks big picture concepts, and is always looking for opportunities to drive amazing work. 
If you worked here this past month here are some things you might have been involved in:


Participated in our Growth and Creative monthly metrics call to go through work and learnings and come up with 5 new creative ideas to test.
You art directed the content for a new Youtube video ad, leading the charge with our Video Lead to ensure our freelance talent embraced our brand voice and style throughout the shoot and following iterations. 
Worked closely with our Design Lead: Brand Identity and Packaging to develop and refine our spankin'-new brand guidelines for a new product launch.
Brainstormed new ways we can measure our Creative Team's performance in our upcoming quarterly OKRs
Partnered closely with the Growth Marketing and Insights teams to understand our target audiences more deeply, and then used this data to inform the plan of attack for an email marketing A/B test drive for a new and out-of-the-box approach to customer retention.
Uploaded a bunch of stuff that inspires you on our Slack #inspiration channel
Worked with our Growth Marketing team to create a personality for a new chat bot
Partnered with P&C to identify a new mentorship opportunity for your direct report that would inspire and help them get to the next level of kick-butt work! 
Spent time with your fellow design leads to seek early peer feedback on your work-in-progress to incorporate into the second iteration. 
Joined a surprise birthday bash on Zoom for three of your Creative teammates, and made sure to have your best wig and costume ready to match the theme.  
Contributed big-picture, conceptual thinking in our brainstorm for the upcoming Earth Day campaign 
Flagged to the Creative Team a digital campaign element that felt off-brand, and then worked with our Content Lead to come up with an alternate solution.
Let's talk about you

Yes, you're a growth marketing and branding design expert, and you champion the intersection between beautiful design with performance and best practice. You've probably always dreamt of applying your design skills to work that's contributing to making our world a better place whilst making people smile. 


You understand the nuances of design and building a brand in the world of e-commerce and you get a kick out of seeing your work across emails, landing pages and new channels. It's OK not to know everything, but you're the type of person who jumps in and loves figuring it out. 

We won't tell anyone, but you like metrics and data

You understand the role metrics, data and insights have in your work and you love finding the balance between creativity and brand and data and best practice. You're the type of person who will sit on our team metrics call and then come up with 10 ways to apply it to your work. You prefer to get as many of your ideas into the world as possible, rather than perfecting a single idea so your work may not always be "perfect". You're totally used to iterating and creating A/B tests of your work. 

You love variety

Berets, caps, helmets - you look good in all of the hats. We're a small team and we all get our hands dirty. Most days you'll be designing, other days you'll be concepting crazy, big picture campaigns. Then, there will be days you'll be solving a process problem or figuring out how to increase our cross-functional collaboration. 

You're a roll model (pun intended!)

You are comfortable and skilled at leading and working cross-functionally to ensure everyone is engaged, effective and enjoying themselves. Your crystal ball vision helps you stay a few steps ahead and you proactively seek to fill gaps in your knowledge to understand what might lie ahead. You're excited to learn our approach and take the initiative to suggest new ways in which we can use design to deliver delight to our customers and our team!

You heart feedback

You welcome getting tips, tricks and feedback on your work from your peers, not just within the design team, but cross functionally too.  You understand that diversity in thinking makes work better and some people make really valid points. That's not to say you have to take eeeeeeverything on board. You know how to filter and have the confidence and communication skills to explain your decision making. 

You give a crap

Yep. We're all here because we genuinely want to make the world a better place with our work, and we want you to want that too! Awwww.

But wait..

Have you made it this far down and feel a little "too qualified" or "not experienced enough"? Don't let that stop you! We'd love to learn more about you, your work and your aspirations and we're open to being flexible for the right person. 

Why you should work with us


Every minute you spend working with us, you're making a difference. The more we grow, the bigger an impact we'll have. Sell your soul no longer! We think that's a pretty great perk, but we don't stop there…


If you have a great idea, we'll do everything we can to make it happen. This is the kind of role that will be hard to find anywhere else: you'll work with an incredible bunch of passionate people to grow a fast-paced startup at a crucial point in its trajectory.


The job is also amazingly flexible, something we're working hard to hold onto even as we grow super quickly. We started the business remotely, and now have hubs in 4 cities around the world. While the Melbourne team spends a few days of the week together in our coworking space in Cremorne, you can also mix it up and work in your PJs from home or set up office at the beach but, up to you! And while we don't have a Friday drinks cart (yet), you will get free toilet paper. A lot of it. And nothing beats that.

Lastly, you get to say the word 'crap' more than in any other job. Guaranteed.

Salary

This depends on your experience but just because we're a social enterprise doesn't mean you'll get paid peanuts. Think chocolate covered macadamia nuts with some extra perks thrown in. In other words, we pay competitively and are determined to make this the best job you'll ever have – you won't ever want to leave!


On top of the normal perks like annual leave, we also provide flexibility to take extra unpaid leave or travel while working, we provide a health insurance stipend, generous parental leave, training and development budget and a whole lot of other stuff. And did we mention the free toilet paper?


We're also not the only ones who think that working at Who Gives A Crap is pretty unbeatable! We feel so honoured to have been recognized for the second year in a row on BuiltIn LA's
"100 Best Places to Work"
list, and most recently also on the
"Best Midsized Places to Work"
list. This selection was based on the value of our culture programs, company perks, benefits, and salary packages, and we're listed alongside other notable names in the startup, B.corp, tech, and e-comm space. We don't toot our horns often, so this is an extra bashful share. Check out some of our other US-based jobs featured on BuiltIn LA, and spread the word to other talented folks in your network who might be the perfect fit!
Apply to Who Gives a Crap
More jobs at Who Gives a Crap
About Who Gives a Crap
Office address
585 Little Collins Street, Melbourne CBD, VIC, 3000
Company size
51-200 people
Founded in
2012