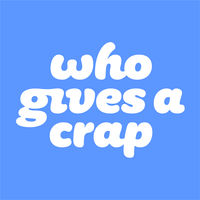 Apply to Who Gives a Crap
Want to challenge yourself at a high-growth startup AND make a difference in the world?

A bit about us:


Hi, we're Who Gives A Crap! We make eco-friendly toilet paper (as well as tissues and paper towels) and donate 50% of our profits to help build toilets for the 2 billion people in need.
We love doing good, and we happen to be exceptionally good at it too! To date, we've donated over AUD$8.3 million (roughly USD$5.9 million) to fund sanitation projects around the globe. We've grown quickly – selling directly to customers across three continents and have established a strong B2B business in Australia that's expanding to the UK and US. 
Our team is made up of over 100 amazing humans working out of Melbourne, Los Angeles, China, and Manila. We're working hard to reach our ambitious goals and diversify our product range to ensure we can have the greatest impact possible – both for the planet and its people. With your help, we're hoping to increase our annual donation 10-fold in the next couple of years and continue to make the most beautiful, eco-friendly goods around.

A bit about the role:
As our Video Content Creator, you'll be dedicated to creating thumb stopping-ly delightful videos that help us spread the word and wipe more bums across the world. Aw! You'll take ownership over the filming and editing of a wide range of video content, including paid ads on FB and IG, how-to videos, unboxing videos, website video assets, an IG story of our in-house puppy Charlie, demo videos, annndd (ok, remember to breathe!) content for our growing YouTube channel. 

Reporting to our Video Lead and collaborating closely with one other Video Content Creator (both based in LA), the three of you will make up the global dream team that produces all of our video content. We want on-brand content that both delights and converts, and we'll be looking to you to ideate, execute and iterate in order to deliver this. 

If you worked here this past month here are some things you might have been involved in:


Shot and edited a series of ads to test on our Facebook and Instagram channels; i.e. a quirky unboxing of our most recent Special Edition 48-roll box.
Re-cut / shot new introductions to our highest performing videos in a super quick turnaround.
Brainstormed some amazing ways to push our brand, make our ads scrappy and high performing in the world of video content with the growth and creative teams.
Found quality stock footage, backing tracks, talent and places to film with the help of our Creative Project Manager.
Spent the day with our Content Lead, Video Lead, and a team of actors that you sourced and booked (COVID-safely, of course), filming for a new Youtube video ad. You not only operated the camera, but actively offered new brilliant ideas for additional shot angles to get the most usable content possible from the day.
Brainstormed ways to bring our Earth Day campaign to life in video.
Dug into the performance of our recent paid ads and social media posts with our teams and pulled out some key learnings for your next shoot.
Made a scrappy stop motion video of our TP rolls for Instagram, and then adapted the video material to test on TikTok, as well. 
Prepped decks and led a creative pitch back to the Growth marketing team for an upcoming video-centered campaign.
You noticed your favorite e-comm brand doing something super cool with their video ads, and immediately jumped into a brainstorming Slack chat with the Video team to share the ideas in your head for testing some new ways to delight and surprise our audience with video content.
Brainstormed new ways we can measure our Creative Team's performance in our upcoming quarterly OKRs.
Found the perfect trees to play the important roles of backdrop to your Earth Day campaign video.
Let's talk about you

You might be a "YouTuber", be working on in-house content at an eCommerce company or work in an agency, but one thing is for sure, you know your stuff when it comes to making high performing, scrappy, delightful video content. You're proficient in Adobe Suite: Adobe Premiere, AfterEffects, and Photoshop, and you have a working technical knowledge of camera, lighting, and sound and can act as a one-human band on set! 

You're also an ideas machine! Whether original or recycled, you're always excited to suggest ridiculous new concepts, ideas, or formats. You're not allergic to shipping things before they're 100% perfect. We're all about getting ideas out into the world, testing and iterating. It's fun, creative, challenging and you get instant results on your work!  

You tell a good story

You love all the ways that video can help a brand tell a story and you'd love the chance for that story to have a genuine impact on the world (whilst making people smile). You've got experience telling all sorts of stories in a range of formats and you'll bring a mix of best practice and ground breaking ideas for us to trial to help us spread the word. 

You're bendy

You can switch from a ground breaking, best-in-class production through to creating a super scrappy iPhone video of your colleague without breaking a sweat. Video is your first love but you still embrace the chance to pitch in and contribute crazy ideas to the rest of the team.

You make your content work hard for its money

You're full of creative ways to make a few assets go a long way and you know how to make them work hard. You dig into the performance metrics of your material to learn where you can iterate and improve. You're frugal with your time and you're not too proud to repurpose something old to make it look shiny and new again. 

You heart feedback and learning

Always. You love getting tips and tricks from your co-workers and welcome new ideas. Passionate people! They're the best. You enjoy the corkscrew journey of launching, testing, learning and iterating. 

You give a crap

Yep. We're all here because we genuinely want to make the world a better place with our work, and we want you to want that too! Awwww.

Why you should work with us

Every minute you spend working with us, you're making a difference. The more we grow, the bigger an impact we'll have. Sell your soul no longer! We think that's a pretty great perk, but we don't stop there…


If you have a great idea, we'll do everything we can to make it happen. This is the kind of role that will be hard to find anywhere else: you'll work with an incredible bunch of passionate people to grow a fast-paced startup at a crucial point in its trajectory.


The job is also amazingly flexible, something we're working hard to hold onto even as we grow super quickly. We started the business remotely, and now have hubs in 4 cities around the world. While the Melbourne team spends a few days of the week together in our coworking space in Cremorne, you can also mix it up and work in your PJs from home or set up office at the beach but, up to you! And while we don't have a Friday drinks cart (yet), you will get free toilet paper. A lot of it. And nothing beats that.


Lastly, you get to say the word 'crap' more than in any other job. Guaranteed.
Salary

This depends on your experience but just because we're a social enterprise doesn't mean you'll get paid peanuts. Think chocolate covered macadamia nuts with some extra perks thrown in. In other words, we pay competitively and are determined to make this the best job you'll ever have – you won't ever want to leave!

On top of the normal perks like annual leave, we also provide flexibility to take extra unpaid leave or travel while working, we provide a health insurance stipend, generous parental leave, training and development budget and a whole lot of other stuff. And did we mention the free toilet paper?
We're also not the only ones who think that working at Who Gives A Crap is pretty unbeatable! We feel so honoured to have been recognized for the second year in a row on BuiltIn LA's
"100 Best Places to Work"
list, and most recently also on the
"Best Midsized Places to Work"
list. This selection was based on the value of our culture programs, company perks, benefits, and salary packages, and we're listed alongside other notable names in the startup, B.corp, tech, and e-comm space. We don't toot our horns often, so this is an extra bashful share. Check out some of our other US-based jobs featured on BuiltIn LA, and spread the word to other talented folks in your network who might be the perfect fit!
Apply to Who Gives a Crap
More jobs at Who Gives a Crap
About Who Gives a Crap
Office address
585 Little Collins Street, Melbourne CBD, VIC, 3000
Company size
51-200 people
Founded in
2012