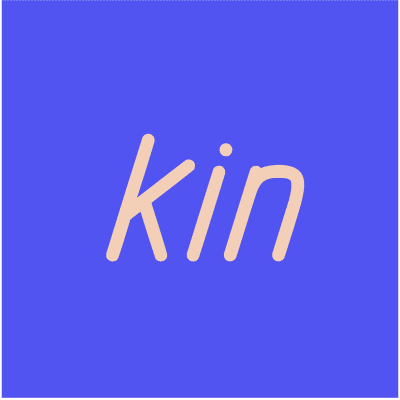 Apply to Kin Fertility
At Kin Fertility, we think that the information available for women on fertility health is lacking - plagued with misleading, conflicting and confusing information that lacks a clear path to action. As a result, many women are making decisions about their fertility on broken information.
We want to change this.
At Kin, our vision is to empower Australian women to take control and make decisions about their fertility. We'll do this by providing better information, better access and better quality care to women along their entire fertility journey, from contraception to conception.
If you have a passion for writing, a passion for improving women's health and are keen to make an impact, then hopefully we are the place for you.
The role


We are looking for a Content Writer to join us on a 2-3 month contract.
As a Content Writer at Kin Fertility, your role is to help shape the brand of the voice and create high-quality blogs and guides for our platform. You will be surrounded by Medical Professionals (including doctors, fertility and IVF specialists, nutrition specialists) to support the research and content. Your job will be to leverage their knowledge to generate ideas for, write, edit and publish kick-ass content about fertility for our readers.
Specifically, this means:


Establishing a voice for our brand and ensuring the consistency of this voice throughout all of our content (primarily guides/blogs)
Conduct research to determine and design the most relevant and compelling content for our audience
Work with the creative team to determine the best way to present information online
Work with our team of Medical Professionals to ensure that the content is accurate, balanced and evidence-based
What we are looking for


With regards to background, we are flexible. We want you to demonstrate to us that you can turn complicated (and sometimes sensitive) topics into clear, succinct and engaging pieces of educational content.
This likely means that you:


Are an excellent writer, first and foremost: You love writing that is clear and human. You are meticulous about punctuation and grammar and have a flair for shaping tone of voice
Have a knack for translating complex topics and concepts into clear, easy-to-understand language
Are creative minded, with an ability to generate interesting and unique ideas of new content and/or ways to present and structure content
Have strong research and interview skills, and experience organising facts and sources
Have experience or a degree in journalism, communications, marketing, copywriting or equivalent
Have experience writing for an online audience and/or about women's health or healthcare related topics (Optional)

What we can offer you


You will have:
The opportunity to shape the voice of the brand from the ground up, as we are still pre-launch and early in our journey
The opportunity to work alongside an experienced creative team, as well as brand & marketing experts
Access to Medical Professionals (GPs, Fertility Specialists, Nutrition Specialists) to help guide research, writing and ideas
Potential opportunity to move into a full-time role, after your contract has ended
Flexibility to work flexibly and remotely (if preferred)
Apply to Kin Fertility
About Kin Fertility
Office address
249 Pitt Street, Sydney, NSW, 2000
Company size
1-10 people
Founded in
2019