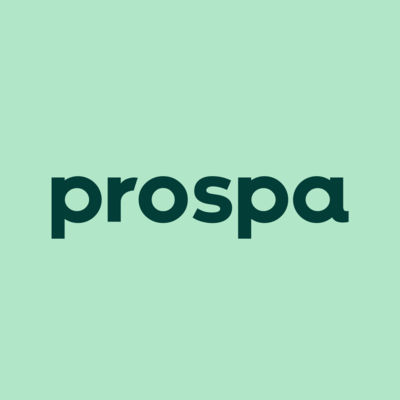 Junior Designer at Prospa
Apply to Prospa
Prospa helps small businesses across Australia achieve their dreams, by creating an alternate funding pathway when traditional finance is not available. To date we've helped over 18,000 unique small business customers across Australia with over $920 million in small business loans.

Prospa has established itself as a clear #1 online lender to small business in Australia and current growth trajectories see the business continuing to invest in its rapidly growing team, currently 200 strong.

This represents a unique opportunity to join one of Australia's most exciting and fastest growing Fintech businesses with an awesome culture and plenty of further growth.

Prospa is extremely passionate about its people. Their diversity, skills, and passion are the foundation of what we deliver to our customers. Our people, in turn, are driven by our values.

Obsess About Customers – We don't just listen, we hear what's important.
5* Trustpilot Customer Rating (9.8/10)

Be Bold, Open and Real – Have the courage to take smart risks.
Winner – 2017 FinTech Australia 'Finnie' Award for 'Best Leaders'

Day 1 – We're driven by the start-up mentality.
Winner – 2018 Financial Times High-Growth Companies (Asia Pacific)

Deliver Value Fast – We celebrate outcomes not process.
Winner – 2015 Deloitte Tech Fast 50 (Almost 7000% growth in three years)

Simplicity – The work of a true genius is making the complex simple.
Winner – 2017 Fintech Business Awards 'Lending Innovator'

One Team – Success comes from embracing different perspectives.
4.6* Glassdoor Staff Happiness Rating & 2018 Aon Best Employer
Key responsibilities include 


Creating responsive EDMs using existing code templates + manipulating existing HTML/CSS
Supporting engineering and product efforts across the website leveraging HTML/CSS skills
Creating and updating landing pages on WordPress and Unbounce from existing templates
Creating and updating documents in Adobe Indesign from existing styling and templates
Creating and updating slides in Powerpoint from existing templates
Creating and updating Word templates
Processing partner logos and selecting their brand colours to facilitate DLP onboarding
Retouching, resizing and cropping blog images
Creating interactive forms using Adobe Reader
What you'll need to succeed


Intermediate HTML/CSS skills
Adobe Photoshop, Illustrator, Indesign skills
Extreme attention to detail, eyes for layouts and colours composition – demonstrated through portfolio or a design challenge
Come and join our team

If you can see yourself at Prospa and feel you can contribute to the ongoing success of our company, please hit 'apply'.

We embrace diversity in our people and our thinking and provide a collaborative, inclusive, innovative and respectful environment. We celebrate who you are, recognise & reward great achievements, and actively provide our people the same great experience we provide our customers.

We are committed to being an equal opportunities employer and we never discriminate on the basis of race, religion, gender identity or expression, sexual orientation, age, marital or disability status.

With the greatest respect CVs will not be accepted from recruitment agencies at this time
Apply to Prospa
More jobs at Prospa
About Prospa
Office address
4-16 Yurong Street, Darlinghurst, NSW, 2010
Company size
201-500 people
Founded in
2011